Jeanne Shewmaker Birnbaum wears the best-selling dress from her Apothea collection.
Since growing up in Fairfax, Jeanne Shewmaker Birnbaum, wife of DC United captain Steven Birnbaum, knows she wants to be in fashion.
"When I was younger, I cut out pictures of models in runway shows to create my own line," she says. In New York after college, she took a fashion design class at Parsons in the evenings – "it was so far from my cheap apartment on the Upper East Side, but it was so worth it", says – her – then when she returned to DC she took sewing and design classes at Marymount in Arlington.
She worked as a merchandiser at Abercrombie & Fitch then J. Crew, a stylist then a merchandiser at Intermix and Michael Kors, then spent three years at DC-based Tuckernuck. Most recently, she was director of e-commerce at Hobo, the Annapolis bag brand. (Also somewhere in there: a co-owner of a yogurt franchise in Fairfax called Yogurtini, where, according to her LinkedIn profile, she handled marketing.)
"To be honest, starting a brand has always eaten at me, but as my career progressed, I put my personal aspirations on the back burner," she says. "I loved learning and growing in the industry, so it never felt like the right time."
Left to right: Casa Raki "Siena" crop top ($120) and "Carmen" skirt ($285); Casa Raki 'Nicola' Top ($205) and 'Emilia' Shorts ($165); Knititude 'Kari' Cable Sweater Vest ($88); 'Celine' Shewmaker Skirt ($220)
Then, when her daughter was born in 2019, she says she started thinking about her personal goals — and the closet full of fast fashion she had that she didn't like — and realized that there would never be a perfect time to "go".
Thinking about what she was missing at the market, she noticed that the clothes she did love were well-made classics: "a beautiful woolen overcoat, a cashmere sweater, a perfectly tailored button-up shirt. She wanted more "functional pieces" that could be worn to run errands and then dressed up at night. And: She wanted all clothing to be made responsibly and sustainably.
So she decided to start a business that offered all of that. Her first step, she says, was a deep dive into how the industry was becoming more sustainable and brands leading the way.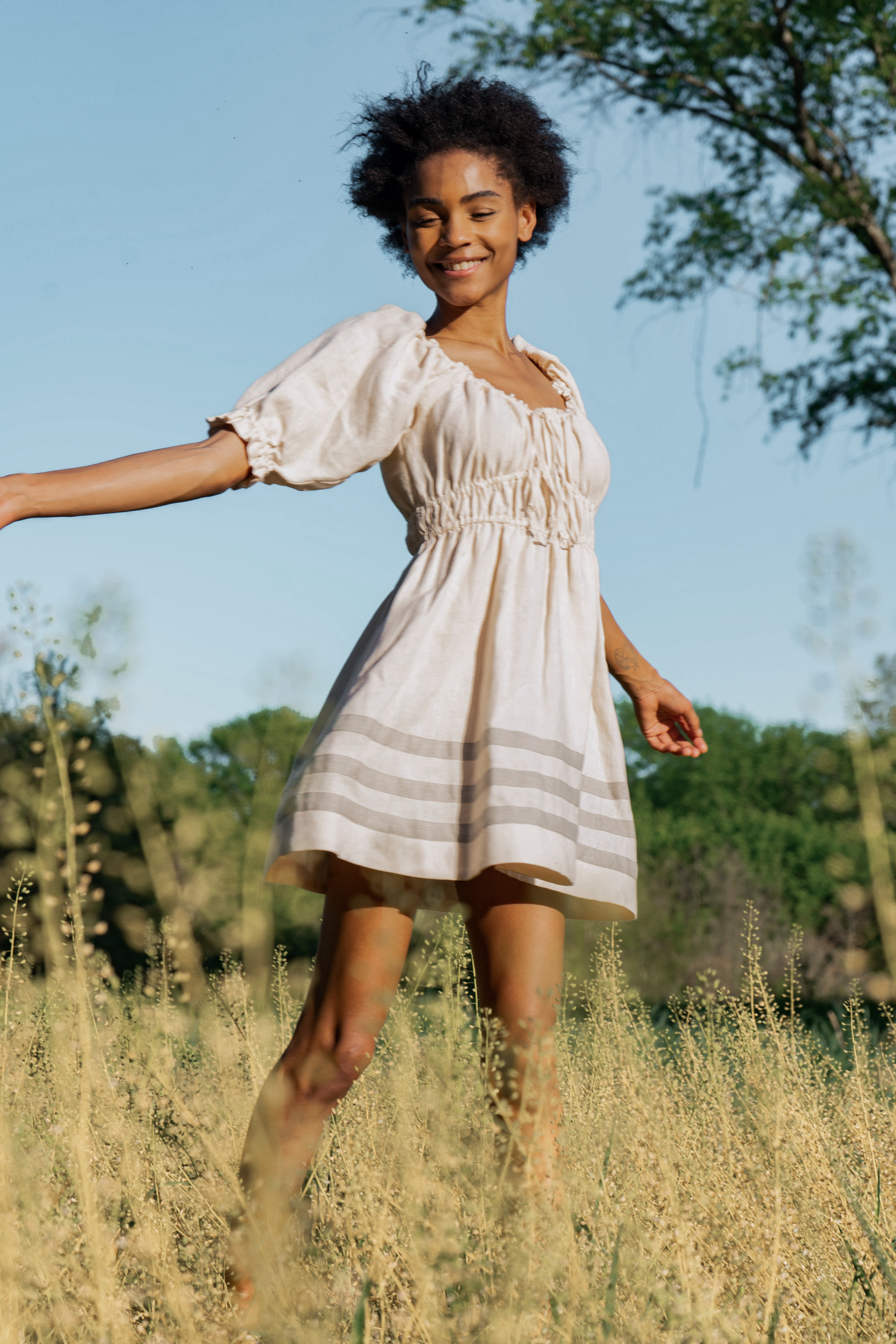 Left to right: Casa Raki "Olga" dress ($315); Knotty Ones 'Delčia' sweater $175 and 'Pieva' shorts $115; Frame Striped V-Neck Puff Sleeve Shirt ($298) & Etica 'Tyler Vintage Straight Crop' Denim ($178)
In May, she launched Apothea, an online store featuring items from more than a dozen brands, including a self-titled "Shewmaker" line whose best-selling "Coco" dress ($285) is named after her daughter. , Colette, all made and selected sustainably. for their "avant-garde, yet timeless" design. "Easy, but sophisticated." (In fact, the categories featured on the website include "easy outfits" and "basics.") The palette is mostly neutral: black, beige, cream, and blue. A few scratches. Lots of flowy dresses, button down shirts, sweaters and two piece sets. "I test each brand — in a messy house with two toddlers, ha — before buying it for the site," says Birnbaum, who welcomed a second child, son Brooks, in 2020.
Birnbaum calls the prices are "mid-market" — dresses, for example, range from $168 to $409. Although the company itself is still small – each order comes with a handwritten note from Birnbaum herself – the collection is large and growing, including dresses, jeans and accessories. "Each item is handpicked and meant to serve a purpose in your wardrobe."