'2 5 2 6' by ying gao explores the phygital realm of fashion
Based in Montreal fashion designer Ying Gao returns with new robotic clothes, this time looking to the world of NFTs and the metaverse for inspiration. Seemingly pulsating and writhing like floral beings, her latest outfits combine glass, precious metals and silicone into a polymorphic material that simulates the effects of virtual clothes. As for the title of the project, "2 5 2 6", Gao notes: '[it] refers to the number of hours invested in the creation of the two polymorph garments, from ideation to finishing, from the first line of drawing to the last stitch.
all images courtesy of Ying Gao
how the polymorphic textile comes to life
While the twisting and undulating movements were simulated to perfection by a robotics specialist Simon Laroche, the two outfits in the '2 5 2 6' collection were physically made by Ying Gao. 'Ooven, hand-screened and consolidated materials have been specially designed to create these garments,' explains the fashion designer. The short film above illustrates this physical-digital fusion, framing two models sporting the garments as they slowly come to life. Additionally, as the film progresses, close-up shots of the polymorphic material reveal texture appearing as delicate as flower petals and engaging in a choreography of volume, transparency, and reflectivity.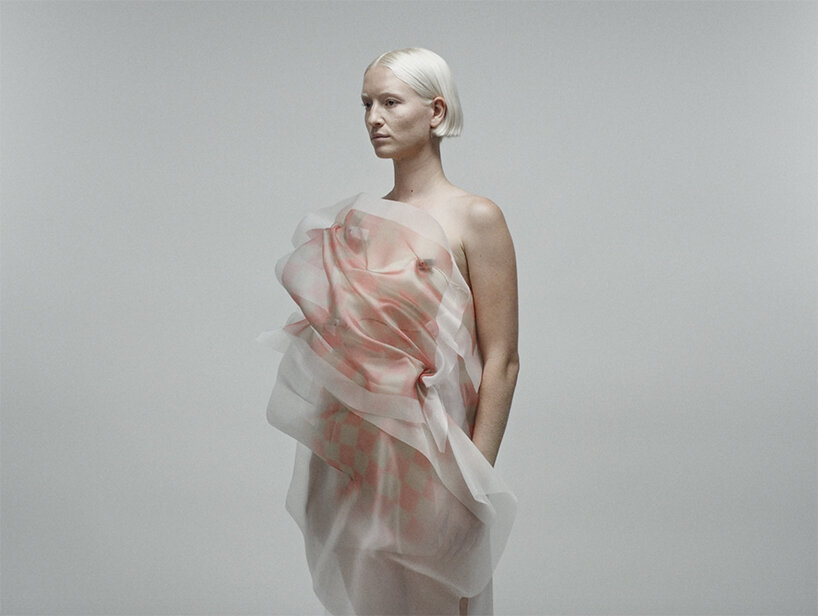 the polymorphic material is made of glass, precious metals and silicone
Concluding his thoughts on '2 5 2 6', Ying Gao writes: 'If the role of the fashion designer is to give form and function to materials intended to dress the body, one can wonder about the question of immaterial clothing and the virtual body, devoid of substance, and their level of reality. , when digital technology has become truly "second nature". As our escapades into the metaverse become more frequent and less surprising, digital fashion inevitably unfolds into endless possibilities and uncertainties..'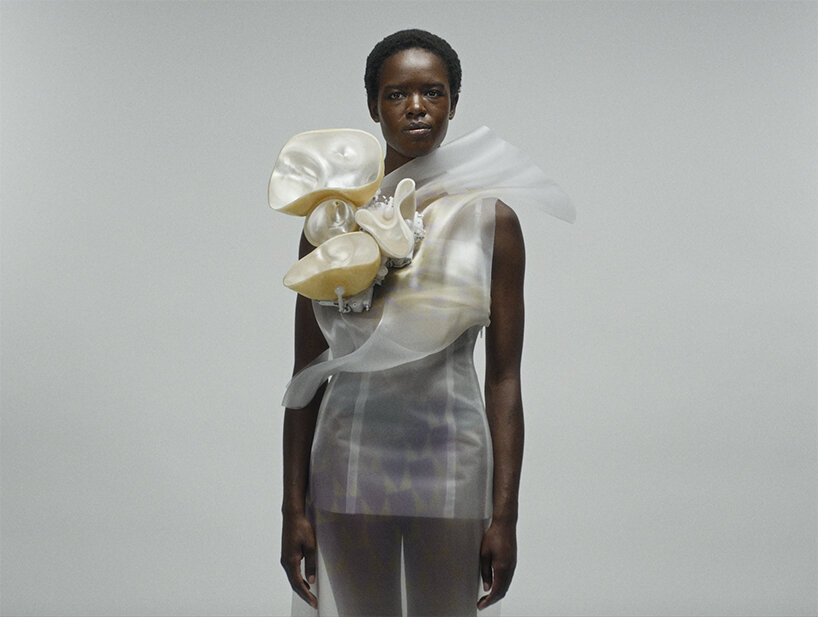 evoking the anatomy of floral beings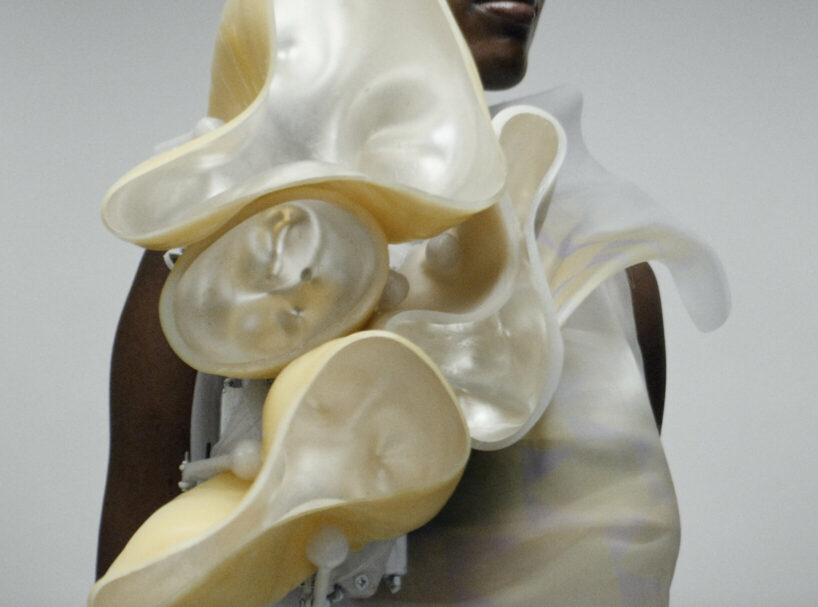 '2 5 2 6' looks to the world of NFTs and the metaverse for inspiration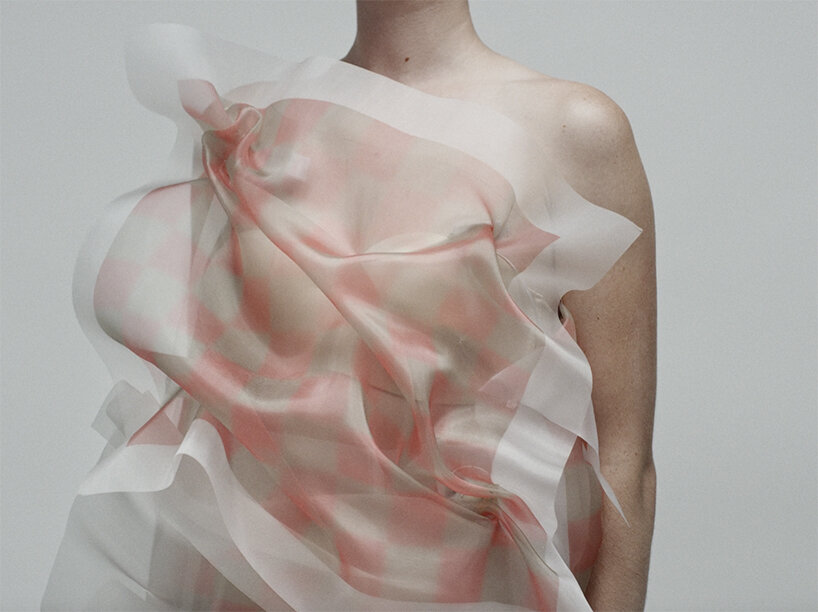 a texture as delicate as flower petals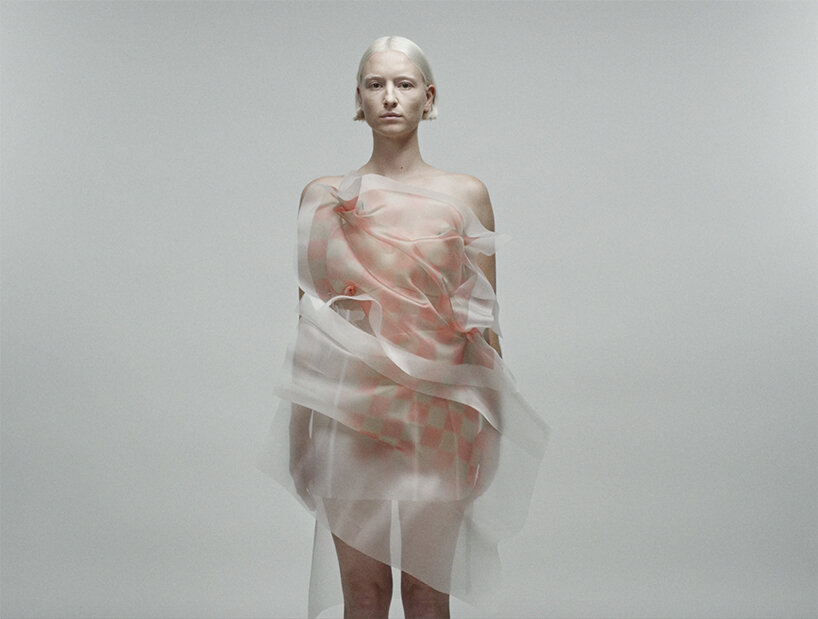 'woven, screen printed by hand and consolidated' fabric design
project info:
Last name: 2 5 2 6 robotic clothes
fashion drawing: Yinggao | @livingpod
robotic genius: Simon Laroche
creative studio team: Espé Duenas, Marianne Frève, Ruochu Xie, Pascale Tétrault, Tommy Lecomte,
Sarah Hontoy-Major, Roxanne Ouellet-Bernier
Blown glass: Jean-Simon Trottier
textile printing: Laurence Perreault
direction of the film: Vincent Rene-Lortie
models: Charlotte Bolduc, Amer Eman / FACES